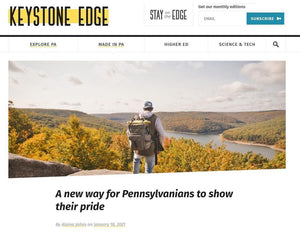 Spreading the Word! Keystone Edge Feature on RepresentPA
We're working hard to energize, unite, and cultivate Pennsylvania pride across the Keystone State—our Symbol of Pennsylvania hats are being proudly worn from Erie to Gettysburg; our patches are popping up sewn on hiker's backpacks, and our stickers are being affixed to car windows and café patron laptops from Pittsburgh to the Lehigh Valley.
The more people who know and recognize our Symbol of Pennsylvania, the more effective our PA pride! So, we're excited to see our mission and Symbol of Pennsylvania products highlighted by Keystone Edge—Pennsylvania's premier online culture magazine. Check out their writeup of RepresentPA's origins, inspirations, and plans for the future.
And while you're at it, spread the word!
---