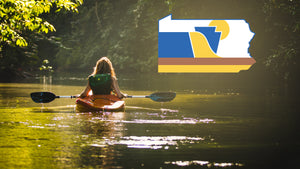 Up a Pennsylvania Creek (With a Paddle)
Pennsylvania's rivers, creeks, and streams have always been one of our state's great selling points. Long before PA was deemed the "Keystone State," our over 83,000 miles of water (and 1,200 miles of canal!) offered critical transportation routes. Timber, anthracite, dry goods, and even people all floated across the state on their way to buy, sell, and trade—contributing to Pennsylvania's important role in our nation's economy.
Today, our waterways are still a key resource for local residents. But in place of the canal boats and mules, you're more likely to find kayaks, canoes, standing boards, and rafts floating down the rivers and streams. And now, as we navigate the COVID-19 pandemic and look for ways to safely enjoy the outdoors, rivers and streams may offer the perfect escape. Depending on where you live and local recommendations, water sports can allow you to spend the day outside and maintain safe distances from others.
Of course, plans to spend the day out on the water can raise a lot of questions. Do I need a permit? What gear do I pack? How do I get back to my car, once I've floated down the river? That's where a trusted outfitter comes in handy. From renting your vessel to managing your transportation, outfitters take all the guesswork out of paddling—and allow you to sit back, relax, and soak up the day.
Some favorite outfitters of the RepresentPA team include:
Allegheny Outfitters – Warren, PA
The Allegheny River, which runs from the north-central tip of Pennsylvania down to Pittsburgh, happens to support the most populous freshwater mussel habitat in the world and one of the most biologically diverse watersheds in Pennsylvania. But just as importantly, the river and the surrounding Allegheny National Forest are a downright beautiful place to spend a day.
Allegheny Outfitters offers a one-stop-shop for a day on these picturesque waters, from introductory workshops to gear rentals to planning an overnight trip.
Edge of the Woods – Delaware Water Gap, PA
If you live a short drive from the Delaware River (made famous by George Washington's Christmas Day crossing), you can't beat a day out on the water. Beyond kayak and canoe rentals, the Edge of the Woods outfitters offer guided tours, so you can learn more about the history of the region and the current wildlife who call it home. You may even see a family of bald eagles, soaring overhead.
Blue Mountain Outfitters – Marysville, PA
Bisecting Pennsylvania, the Susquehanna River has long served as a key navigation corridor—at different moments in history, Iroquois, Revolutionary and Civil War soldiers, and Mormon settlers traveled via this winding waterway. Today, you can do the same! At Blue Mountain Outfitters just north of Harrisburg, you can gear up and get lost—or you can bring your own boat and have their experts fix any damage weathered in winter storage.
Kayak Pittsburgh – Pittsburgh, PA
Can't decide on just one river? Then don't! Kayak Pittsburgh has three locations in Pittsburgh, so you can choose to paddle on the Ohio, the Monongahela, or the Allegheny. Nervous about paddle boarding on a river? You can also enjoy a day out on North Park Lake.
Pale Whale Canoe Fleet – Cooksburg, PA
The Clarion River wasn't named the 2019 Pennsylvania River of the Year for nothing! Flowing through narrow serpentine valleys and hardwood forests, the Clarion offers an opportunity to truly connect and commune with the wilderness. And if you opt to rent an inner tube from the Pale Whale Canoe Fleet, you don't even have to worry about paddling. Just lay back and enjoy the float.
Wherever the river takes you this summer—don't forget to pack snacks, sunscreen, and your
favorite Symbol of Pennsylvania hat
!
---