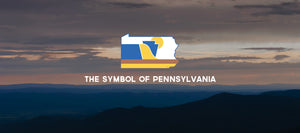 What's RepresentPA All About?!
Our Story
Pennsylvania is home. It's part of our identify and it has shaped who we are and who we want to be. We are native Pennsylvanians, and we are proud of it.
So, several years ago, when we set off on a long road trip that took us across the country, we weren't surprised to find that other people were similarly excited about their home state. But we were surprised by how they showed off that home state pride. We saw Colorado hats, Texas bumper stickers, California t-shirts, and even the occasional "Minnesota Nice" water bottle.
Why did all these other states have easily displayed symbols that conveyed such fervent home state pride? And more importantly, why didn't PA have a Symbol of Pennsylvania?
We returned home, determined to create a Symbol of Pennsylvania—a design that proud Pennsylvanians could wear and display that tells the world we are from the Keystone State and proud of it!
In 2017, we created the RepresentPA Symbol of Pennsylvania. And right away, we heard positive feedback from our community. So many of you have reached out, telling us that you have long felt the same way we did: Pennsylvania proud, but missing a way to show it off.
The Symbol of Pennsylvania
Creating a "Symbol of Pennsylvania" is a daunting task. How do you create a simple design that conveys such a diverse and vibrant place?
We wanted to keep the keystone front and center—it's our nickname after all! But we mixed that recognizable symbol with depictions of our soft rolling mountain that we love to hike and hunt, against the sun-lit agricultural fields that are the foundation of our regional economy and history. And of course, highlighting our state (and license plate!) colors: blue and gold.
Our Mission
We started with a very simple objective: create a symbol of the Keystone State, so we could proudly boast. But thanks to the resounding positive feedback we've received from our community, we now realize our mission is much bigger than that.
By creating a Symbol of Pennsylvania, it is our mission to equip proud Pennsylvanians with a way to showcase their love for their home state and to draw attention to all the people, places, and experiences that make the Keystone State so special. We are recognizing the beauty and value of our state, while also encouraging tourism and supporting small businesses. Most importantly, we are providing a space to both celebrate and RepresentPA.
---